what is the new administrative capital of egypt ?



New Administrative Capital a smart city for urban growth that brings a modern idea of dwelling and is planned to house 18 to 40 million people by 2050.
Egypt is relocating its capital from Cairo to a newly established city known as the "New Administrative Capital".
Why is Egypt going to build a new capital ?
Egypt is trying to construct the New Capital city in order to provide many housing and employment opportunities, keeping in mind that Egypt's population will nearly double in the next 40 years.
The city aims to address Egypt's various issues while also providing a distinct quality of life.
The government is looking for a solution that will allow it to adapt to the conditions of population growth .
The smart city welcomes people of all income levels and cultures.
New Administrative Capital location
The main roads leading to the New Capital are the Suez Road and the Mohamed Bin Zayed Axis.
The New Administrative Capital is situated on the outskirts of Badr City.
between the Cairo/Suez and Cairo/Al Ain Sokhna roads .
immediately after New Cairo, Future City, and Madinaty.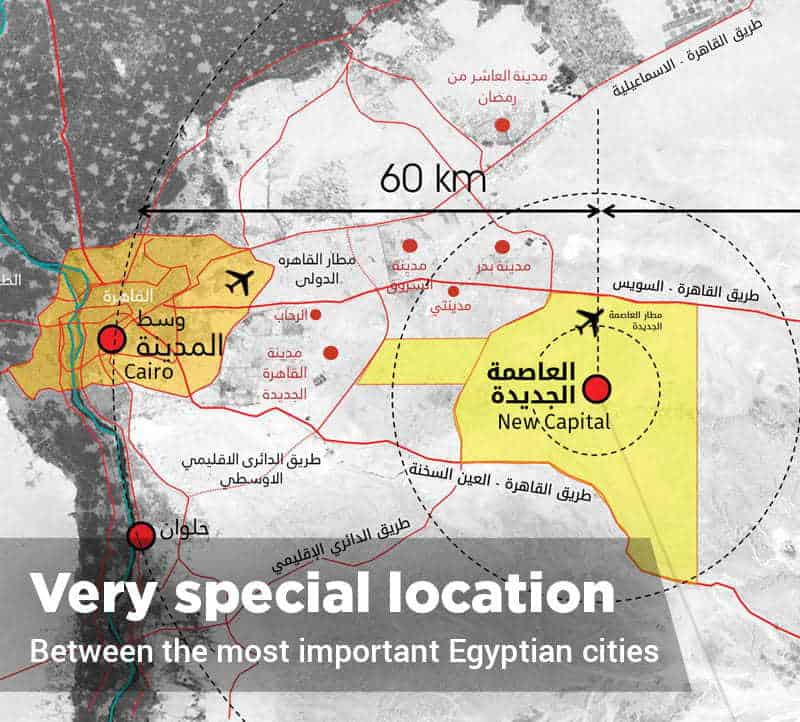 new administrative capital master plan
The New Capital  master plan is built on an area of 700 square kilometers (equivalent to the size of the city of Singapore).

The first phase's area is 40,000 acres that will accommodate around   6,500,000 people and may reach 7 million.
The second phase's area is 47,000 acres
The third phase's area is 97,000 acres.
New capital map Egypt : 
North Mohammed Bin Zabid settlement

Residential districts in New Capital R5, R7, and R8.

Government administrative district

Business district

Cultural district.
The 
company's 
key 
departments 
are 
as 
follows:
Authority 

for 

National 

Service 

Projects

The 

Authority 

for 

Urban 

Communities
Who Is Developing the New Capital ?
The largest construction companies in Egypt are developing the residential and government districts in the New Capital:
Talaat Moustafa

Arab Contractors

Hassan Allam Properties

Concord

Orascom alliance with Petrojet for Contracting

Wadi El Nile for Contracting & Real Estate Investments

Egyptian-Spanish Alliance

CSCEC company, which is ranked as the best company among 250 global contracting companies.
Property

Types

 

in

 

New 

Capital

 ?
It 
is 
made 
up 
of 
4000 
villas 
and 
townhouses
:
Phase 

I 

will 

cover 

10,000 

acres

(

include 

190 

villas 

and 

71 

townhouses)

Phase 

II 

will 

cover 

15,000 

acres 

and

(include

139 

villas 

and 

50 

townhouses)
In 
terms 
of 
residential 
structures:
Each 

structure 

has 

eight 

floors.

Each 

floor 

has 

a 

580 

metre 

square 

area.

Each 

unit

ranging 

from 

130 

to 

180 

metres.
The city also has an area of 10,000 meter square dedicated to administrative and commercial buildings.
What Are the Units Provided by the Ministry of Housing?
The Ministry of Housing is offering 3,000 acres for developers and real estate investors after developing the basic services and facilities in them.

The Ministry of Housing is aiming to finish constructing 40,000 units by June 2020.

The governmental district contains:

18 ministerial buildings

Presidential building

Parliament building.
New administrative capital Prices for Apartments :
The price per meter for apartments in the new administrative capital starts from  8,500 EGP.
The price per meter for the units provided by the Ministry of Housing ranges from 11,000 EGP.
What is a New Administrative project ?
There're a large number of residential compounds in the New Capital City

The compounds have a variety of unit types and sizes.

They're all built with high standards to ensure a perfect residency for you and your family.
Some Best

projects in New Capital 
Best

commercial in new capital
What Are the Services Provided in the New Capital ?
The services at the New Capital City are provided using smart technologies as the main objective is to create a global city:
Recycling organic waste to grow and flourish local food.

Build an integrated transportation network.

Build a unified digital infrastructure.

Create Smart network facilities.

Create a Smart traffic system.
The city includes:
Central Park with an area of 8 km 

Green River, 35 km long

Al-Fattah Al-Aleem Mosque

Mega Mall

Capital Prime New Capital

Conference hall

Expo City New Capital

Medical city

Sports city

New Garden City New Capital

The Walk Mall New Capital

Al Masa Hotel New Capital

Zaha Park New Capital

Artificial lakes

Educational institutions

Knowledge City

Hospitals

Disneyland

Churches and mosques

Technology and innovation park

Energy farms.

What about Living Abroad ?
To book a unit in New Capital City you should stick to these 6 conditions:
 21 years of age

Should provide a valid Egyptian passport

Should provide a valid residence document from abroad

Can't book more than one unit

Should not have been allocated any unit within the social housing program

The applicant may not apply at the later stages of the project if a unit is allocated to them.
New Administrative Capital of Egypt Latest News ?
Now, you can book your apartment from the branches of the Housing and Development Bank.

17,500 fedan from the new phase have been sold out and 6,000 fedans will be sold by 2020 according to the plan of Administrative Capital for Urban Development.

Honeywell and Etisalat Misr will work together on delivering city management services for citizens in the New Administrative Capital, which is considered to be one of the largest smart projects in the world.

The New Capital City is a new beginning to a brighter future with better living standards. It's the dream city!
FAQ about new New Administrative Capital
Where is the new administrative capital of Egypt ?
The New Administrative Capital is located in the area between the Cairo-Suez and Cairo-Ain Sokhna roads, east of the regional ring road. This is roughly 60 km from the cities of Suez and Ain Sokhna
What does administrative capital mean?
Is the location where the president is located
New Administrative Capital real estate apartments and villas prices
Prices of Apartments in New Administrative Capital average 11,800 EGP per square meter. Prices of Villas in New Administrative Capital average 20,500 EGP per square meter.